Let me walk you through The Bookkeeping Course over the next 4 weeks with live weekly coaching calls to help answer all your questions at each stage as you prepare to launch your bookkeeping business, find clients and start making money to transform your families lives! See you on zoom!
~Tiffani
In this mini coaching program, you will...
Learn how you can double your upcoming tax refund!
Get all your beginner questions answered to put your family on a new financial track for true freedom!
Get hand holding through each section of our famous "Bookkeeping Course" so you FINISH it and COMPREHEND it 100%!
Students are saying...
"This is the perfect step for those that are on the fence about joining the The Stay-at-Home Bookkeeper Academy!"
"Tiffani is awesome at guiding you right through the DIY course so you feel confident as you move on to the next section."
"No more money wasted on DIY courses that you don't finish. Tiffani gives you accountability to completely consume the information and answers all questions so you fully comprehend it all"
"If you've ever thought a bookkeeping business could help your family, this is the best way to know for sure!"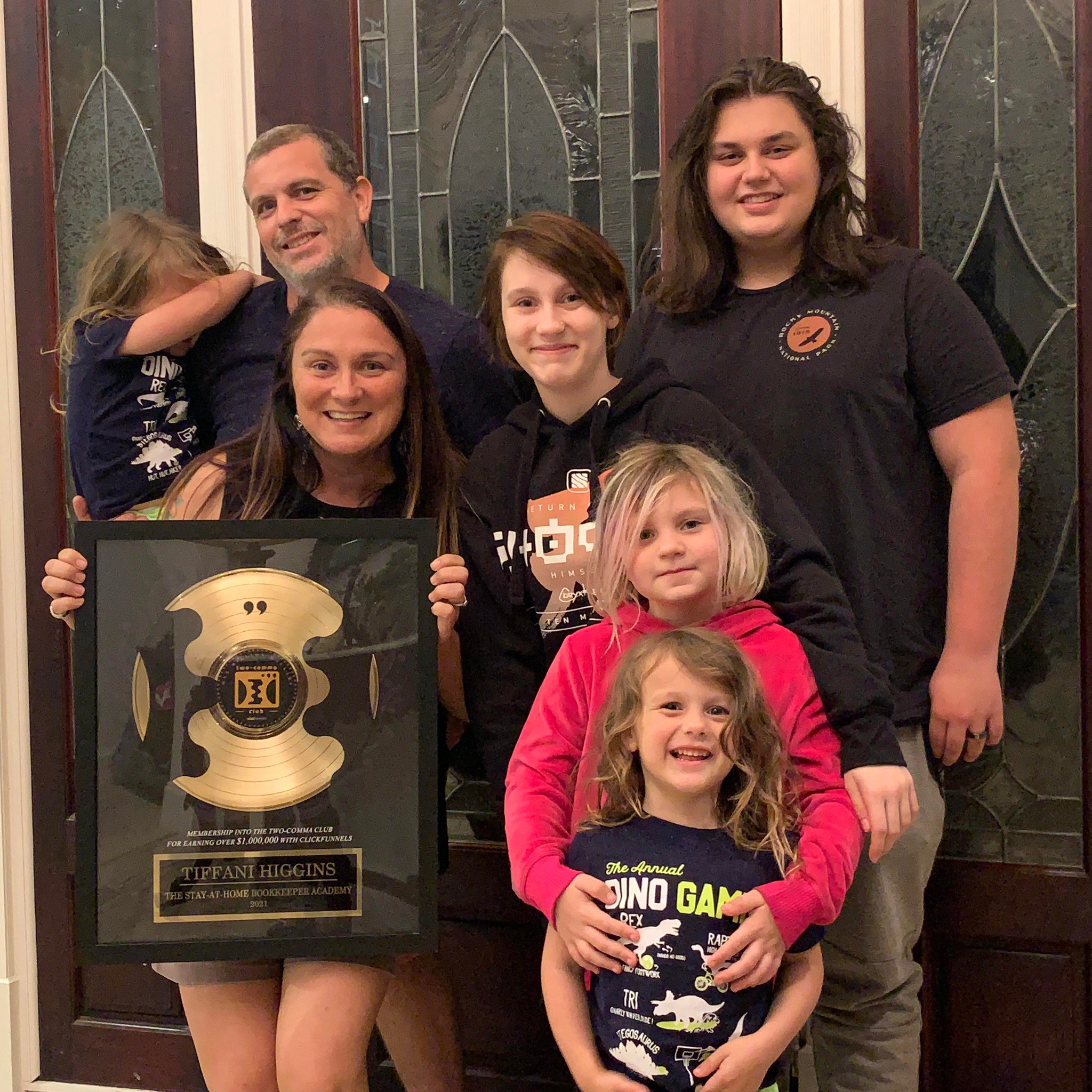 Tiffani Higgins is a CPA and mom of 5 and former bookkeeping business owner. After 4 years of experiencing all the amazing benefits that a virtual bookkeeping business provided to her family (unlimited vacation time, ability to travel, no need to budget, upgraded lifestyle, brand new car, house with a pool and tennis court, paying off debt, etc) she decided to launch the Stay-at-Home Bookkeeper Academy where she could teach other busy moms to follow in her footsteps and create their ideal lifestyle so they could have their cake and eat it too. This allowed families to build wealth while still getting to experience every one of their children's milestones.
Frequently Asked Questions
Can I get a refund if I'm unhappy with my purchase?
At the Stay-at-Home Bookkeeper Academy, we do not offer refunds on any of our awesome DIY courses or coaching programs. We strive for excellence and we hope to exceed your expectations. Your success is ultimately in your hands but we will work hard to help you reach your goals and we look forward to working with you!
What if I already have access to the one or all of your DIY courses?
No problem! You are still welcome to join us on this boot camp so we can help you consume that content and kickstart financial freedom! (We are not offering any discounts or price adjustments for previous course purchases but if you have one of our DIY programs and you've done nothing with it, this program IS FOR YOU!)
My bundle includes coaching. How do I schedule my appointment?
Upon purchasing this bundle, you will get access to our Bookkeeping Course. Our team will then be reaching out to you to grant you access to our private Facebook group and zoom call calendar. You are going to LOVE this community!
Live coaching calls start January 10th!
Bundle Contents
Access to a Private Facebook Group and Weekly Zoom Coaching Calls are also included (not listed here).